Dude, where is my library?
There seems to be alot of buzz lately about libraries.   Remember those.  As a student that I would wander through desperately trying to find the one piece of info for my essay. (Yes.. pre-internet days)
In Ontario, the Windsor-Essex Catholic is dismantling all its libraries.  It has started to divvy up the library books in its elementary schools and distribute them to individual classrooms instead.  Imagine that…  no more hiding out in the library.  No more discoveries of a cool book on a shelf.  But more importantly, what message does this send to youth?  Sorry guys.. books are not important anymore, so we are closing shop.  Farewell and good luck.
Why have we arrived at this state?
I LOVE books.  I own many.  The biggest threat I have ever received is in a heated non-logical exchange with an ex who threatened to burn all my books.  He might as well ripped out my soul and danced on it.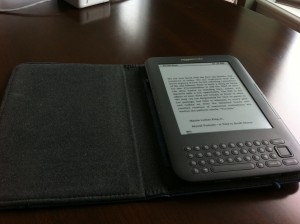 I own a Kindle.  Marvelous thing it is.  Holds up to 3,500 books. It has actually increased my reading (yes, it is possible) and its light.  My friends say "I would miss the feeling of the book.", but somehow I don't.  My biggest complaint is how it lands with a huge thump on my chest as I fall asleep reading in bed.
eBooks in their sexy electronic package is changing the hardware of books.  The Association of American Publishers says that ebooks are the single best-selling category in U.S. publishing. Amazon says that ebooks are its most popular category of book format.  Why?  because its cheap and easy.  It cost me less than $200CDN with a nice book cover and a light. From what I have seen, the average price of a kindle book is $10. Then, there are over 1.8 million free, out-of-copyright, pre-1923 books are available.  The real advantage for me is the WAY TOO EASY one click purchase at amazon.com.  I find a book I like, I click and in seconds its on my kindle.  Just like that.  Amazon has way too much of my money.
On April 20, 2011 Amazon announced that later this year it will launch library lending for Kindle books, from over 11,000 libraries in the U.S.  Imagine how easy that is going to be.  And its free! You hop on a WiFi service or 3G and in seconds you can "borrow" a book.  No library building, no stacks, just data transferred from one point into your hands.
So, what is the future of Libraries?
Seth Godin had a great post today entitled the future of the library. His perspective is that the library is still a place.  Not a warehouse of books (that is your ebook), but rather a meeting place.  Instead of looking for information, people will "come together to do co-working and coordinate and invent projects worth working on together."
My library of the future is a place where I can go to study and to have meetings with others.  A physical manifestation of google.  Where info is organized and accessible.  A place that provides information that is organized to help me.  Imagine that!
So, like everything else, libraries need to evolve to be relevant.  Ok… back to reading Do the Work by Steven Pressfield on my Kindle.
What is your vision of the library of the future?